Students Speak Out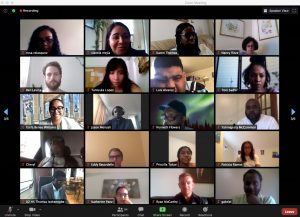 The last Student Town Hall of the semester convened online on Wednesday, November 18.
Over 70 participants logged in to a conversation that focused on the practical aspects of getting an education during a time of pandemic. "I know it's a tough and anxious time for all of you," said President Thomas A. Isekenegbe, "but you are all very resilient. In fact, when I see the word 'resilient,' I see the faces of our students. There are no obstacles you cannot surmount."
Advice from Vice President for Student Success Irene R. Delgado, Associate Dean for Student Development Manny Lopez and the President the Student Government Association Priscilla Tokor was followed by updates on financial aid information and registration.
But the bulk of the town hall was devoted to questions from BCC students. They covered everything from current COVID-19 restrictions to the re-occupancy of the campus after the pandemic has passed.
The town hall's cornucopia of essential information and survival tips can be seen here, in its entirety:
https://drive.google.com/file/d/1u1uNul0YxLa6WvxgTcB2SFyhqYYz0SPY/view?usp=sharing