STUDYING ABROAD FROM THE BRONX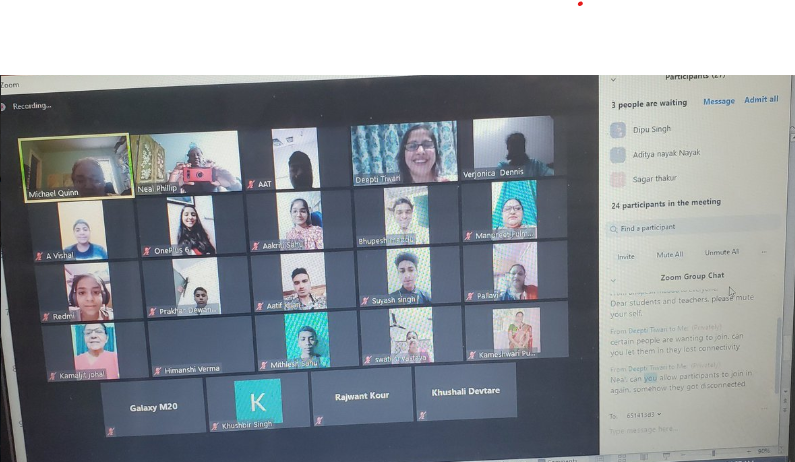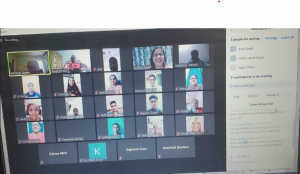 Before the COVID-19 crisis, BCC's Department of Chemistry, Earth Sciences and Environmental Sciences was known for its robust study abroad program. Department Chairperson Dr. Neal Phillip took students on science expeditions to such far-flung destinations as Townsville, Australia, the Spanish island of Palma de Mallorca and Maharashtra and New Delhi in India (the last with chemistry department Professor Paramita Sen). That engagement with the global village continues, even in BCC's online campus.
On Tuesday, April 21, a Science, Technology, Engineering and Math (STEM) workshop took place via Zoom with some 60 students and teachers of the Heritage International Public School in Chhattisgarh, India. Dr. Phillip and Prof. Sen, organizers and hosts of the virtual classroom, were joined by BCC administrators, including President Thomas A. Isekenegbe, Provost Lester Sandres Rápalo, Vice President Irene Delgado and Assistant Vice President Richard Ginsberg.
"Good evening to our friends is India — and good morning to our friends in New York," said Dr. Isekenegbe, noting the 12-hour time difference. "Even when things return to normal, I would like for this communication to continue."
From the Consulate General of India in Manhattan, Consul General Sandeep Chakravorty praised the latest collaboration between BCC and India. "Even COVID-19 is not stopping our friendship," he remarked. "We have just moved online."
Over the two hours that followed, the workshop covered everything from the active weather station BCC students installed on their visit to India last summer to the spread of COVID-19 across the planet to "micro-monitoring" of climate and pollution in India with specially prepared weather stations carried in backpacks to climate change as recorded in ice core samples collected from Antarctica. Videos, charts and other visual aids were part of the lesson.
"Science is bonding us," observed Professor Paramita Sen — and there was no better example of that than an account of the videoconference that ran in the nation's leading newspaper, the Times of India, which praised the event as "a successful attempt to join hands with The City University of New York." Another U.S.-India online class took place later that week.
A week earlier on April 13, Dr. Phillip and other City University of New York faculty (Dr. Reginald Blake from City Tech, Dr. Dereck Skeete from Medgar Evers and BCC's own Dr. Cheila Cullen and Prof. Paramita Sen) participated in a videoconference with Fred Nucifora, the Director of Education for the Great Barrier Reef Marine Park Authority in Australia. Seated before an image of underwater life, Mr. Nucifora discussed working with the BCC chemistry department and the other CUNY colleges to develop online lab material for environmental science classes for the summer and possibly the fall if the state-wide lockdown continues. The focus will be climate change and ocean acidification and their impact on the Great Barrier Reef.
"This is the start of a fruitful collaboration between BCC and the Barrier Reef," said Dr. Phillip as the videoconference drew to a close.
"We'll certainly do something very special, mate — that's for sure," Mr. Nucifora replied from the other side of the planet.
Earlier, Dr. Phillip gave a videoconference STEM workshop with Canadian children and their parents in Toronto. But inevitably, the young students had other things on their minds as well. Recalls Dr. Phillip, "They had a lot of questions about the coronavirus pandemic in New York!"