THE GREAT BCC KICKOFF
Fall 2020 Student Convocation video will be posted here on September 3 at noon.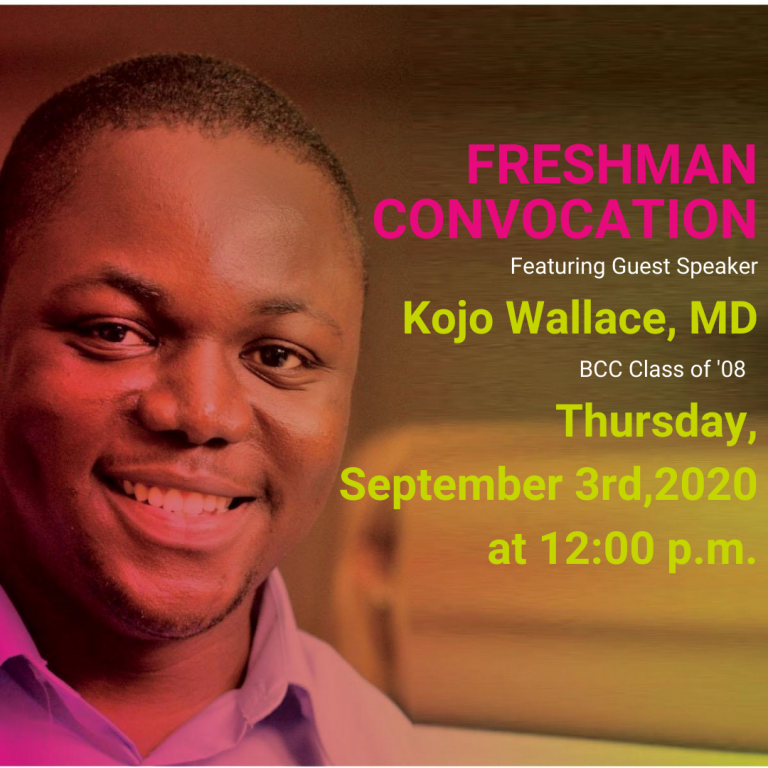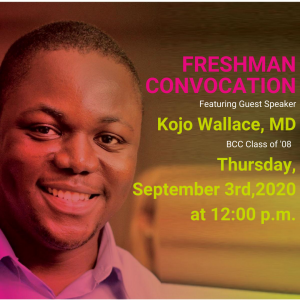 The first major gathering of new students at Bronx Community College every semester is Freshman Convocation. That rite of passage for the 2020-2021 academic year will be held online on Thursday, September 3. The event will include a warm welcome from BCC President Thomas A. Isekenegbe and other administrators and faculty, greetings from the head of the Student Government Association and a very special keynote address from BCC alumnus Dr. Kojo Wallace (Class of 2008).
The pre-recorded event will be launched at noon and can be viewed on this page anytime thereafter. An email reminder will be sent to all new incoming students.
Speakers will include:
Student Life Specialist and Convocation emcee Dr. Yvonne Erazo-Davila
Poet, writer and BCC Alumnus, Ms. Oyindamola Shoola
BCC President, Dr. Thomas A. Isekenegbe
President of the Student Government Association, Ms. Priscilla Tokor
Provost and Vice President of Academic Affairs, Dr. Lester Sandres Rápalo
Vice President of Student Success, Dr. Irene R. Delgado
BCC Senate Chairperson, Professor Roni Ben-Nun
The Convocation will then hear from the keynote speaker, Dr. Wallace. Born and raised in Ghana, West Africa, he immigrated to the Bronx in 2006, enrolling in BCC that very year. Here Dr. Wallace worked on research projects with Dr. Charles Maliti of the Biology Department, who presented their work at several scientific conferences. Dr. Wallace was a BCC co-valedictorian in 2008, graduated from Cornell University in 2010 and went on to medical school. He has just graduated from a surgical residency at the Icahn School of Medicine at Mount Sinai Hospital and is now pursuing further training in Surgical Critical Care/Trauma at Emory Hospital in Atlanta. Dr. Wallace fondly recalls his time at BCC and credits his time on our campus for much of his subsequent success. His inspiring thoughts will launch us all toward a successful semester.
The event will end with a recitation of the BCC Commitment Pledge led by Clifford Marshall and the members of the Male Empowerment Network.
Join the Freshman Convocation virtually and benefit from it actually for the rest of the semester!