The Incredible Journey of Luis Mendez a BCC Alumnus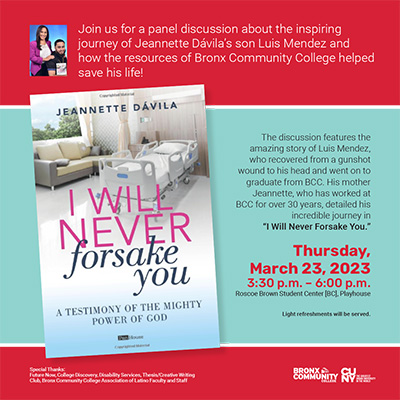 Luis Mendez, a BCC student, was shot in the head in 2016 at age 22 and was not expected to live.
His mother, Jeannette Dávila, a CUNY Office Assistant in the College Discovery Program, sprang into action to help him.
Their story is featured in Jeanette's book "I Will Never Forsake You" and was the focus of a panel discussion at BCC on March 23. Nearly 100 people attended.
Master of Ceremonies Leidy Pichardo, Director of EOP and Workforce Student Success at Rockland Community College and former Chair of the Association for Latino Faculty and Staff at BCC, opened the event.
In addition to Jeannette and Luis, a panel of distinguished members of the BCC community including Elizabeth Payamps, Director of Future Now, Maria Pantoja, Director of Disability Service, and two of Luis' teachers Professor Kwame Nyarko and Dr. Melissa Coss Aquino each discussed their efforts to help Luis as he struggled to overcome his injuries.
The Future Now Program was able to grant him $2,000 to pay off the student debt that he incurred when he first enrolled at BCC in 2012 but had to drop out when his son was born and he needed to work.
He re-enrolled at BCC in 2019. Disability Services made it easier for him to navigate the campus. Advisors helped him map out his course of study. Luis graduated from BCC in 2022. He is now enrolled part-time at Lehman College where he hopes to become a Motivational Speaker and a Substance Abuse Counselor. Here is Luis' presentation at the event: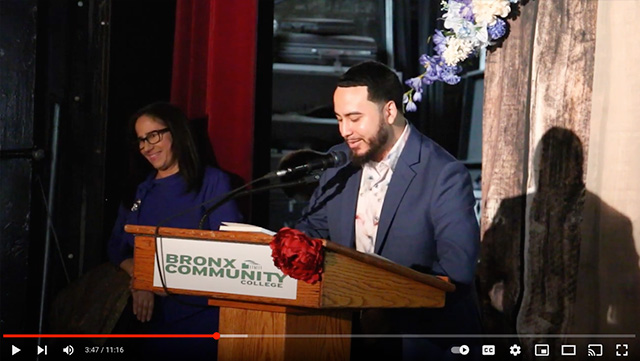 https://www.youtube.com/watch?v=qVgF5o67BD8
"I wrote the book to talk about Luis' powerful testimony and how miracles still happen. The panel discussion has the main goal of illustrating how the BCC faculty and staff helped Luis. The College has tremendous resources for all students, and it was important to me to have this panel discussion so that everyone would see first-hand the incredible journey of my son that couldn't have happened without BCC," said Jeannette.
Jeannette has also established "The Surviving Warrior Award." This $250 award is given annually to a BCC student who has experienced gun violence or suffered a traumatic brain injury. She wants BCC students to know that their dreams are achievable no matter their obstacles.
At the end of the event, there was a book signing and the audience was invited to contribute funding to "The Surviving Warrior Award."
Luis also wants to write his own book about his experience. He authored an article entitled: "The Surviving Warrior" for the 10th edition Thesis: The Literary Magazine of BCC.
Jeannette and Luis hope to go to other venues for a discussion about the book. They will do a special event in Puerto Rico in August.