Academic Computing Director Wanda Santiago: "I've been all CUNY since 1978."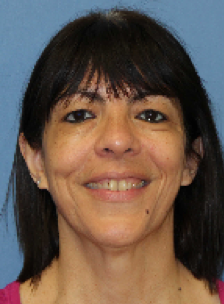 Wanda Santiago, BCC's Director of Instructional Technology and the IT Service Desk, has spent every year of her college education and the career it made possible on a campus of The City University of New York.
Brooklyn-born and Bronx-raised, Santiago earned her associate degree at Bronx Community College in 1981, her bachelor's at Lehman College in 1997 and her master's at the School of Professional Studies in Manhattan 2014. "I've been all CUNY since 1978," she says proudly.
"My mother encouraged me to pursue an education. Her thing was 'Be self-sufficient so that you don't have to depend on a husband to take care of you.'
"When I graduated with my associate from BCC, my major was secretarial studies" (part of what is now called Business and Information Systems). "Two months later, I was working part time for two Research Foundation grants. One of the grants I worked on had to do with a small computer network that they were going to implement. I found that I liked technology. So after that, I worked on my bachelor's in computing and management at Lehman College."
Since being hired by BCC in 1984, Santiago has worked in "Academic Computing" — the public computer labs that any BCC student can use. These were the first years that personal computers were being introduced. "Those IBM computers felt like they weighed a ton and we were using floppy drives," she recalls with a laugh.
"Around 2009, I was charged with overseeing the IT Service Desk (the folks you call for help for technical student support)." Today she oversees the work of some 14 staffers.
"When the pandemic occurred, the IT Service Desk & Instructional Technology were charged with distributing laptops, along with other units in Information Technology. In addition, we are also providing classroom support. If a faculty member is teaching in a classroom or a computer lab and they encounter technology issues, they contact the IT Service Desk/Instructional Technology, and someone is dispatched to the classroom."
When anyone encounters tech problems, Santiago counsels "The main thing is not to be afraid of the technology. Even if that person is tech-savvy, we take them step-by-step on how to remediate the issue they're having."
And where does this IT authority stand in the great PC versus Apple debate? "I am an Apple fan," she says, doing most of her personal business on her iPad and iPhone, even as much of her work requires a PC.
"What I have been able to accomplish professionally I owe to my staff," adds Wanda Santiago. "Without them there would be no academic computing or IT service desk. I have two great teams. They work very hard and I'm so proud of them."