BCC to Host Fulbright Scholar from India as Part of Science Department's Multi-Year Climate Change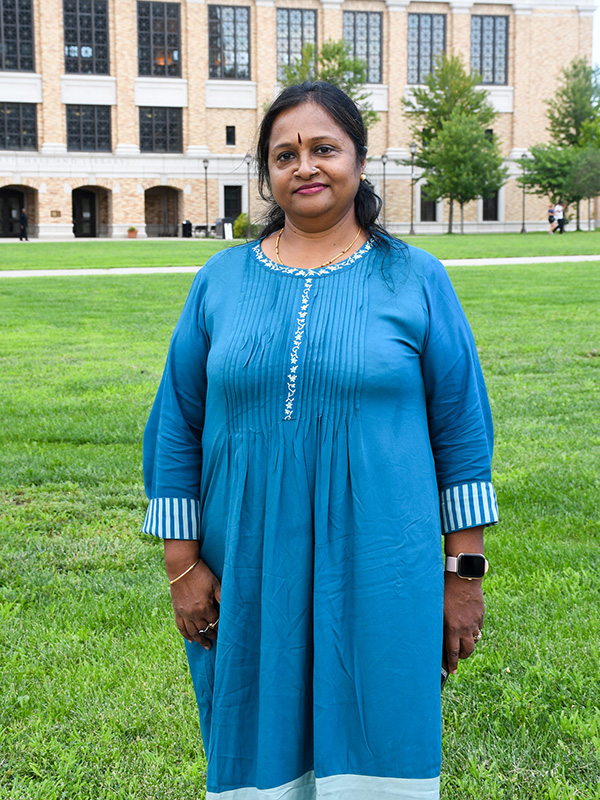 The Fulbright Scholar-in-Residence (SIR), Dr Snehal Donde, will teach Environmental Science; conduct collaborative research activities related to water treatment; and engage with the CUNY and local community on Indian socio-economic and cultural issues. Dr. Donde, the Dean of Research at Bhaktivedanta Research Centre (BRC) at the Govardhan Ecovillage, Palghar, Maharashtra State (affiliated to University of Mumbai), was selected for the Fulbright award by the Fulbright Foreign Scholarship Board. 
This announcement comes upon the return of a 23-member BCC/CUNY student and faculty delegation from India, where they installed solar powered weather/air quality stations across western India as part of a climate collaborative public diplomacy grant project with the U.S. Consulate Mumbai. In 2021, Dr Donde engaged with BCC/CUNY on a weather data awareness campaign for local and tribal youth in rural Palghar district of Maharashtra. The goal was for the youth to help their families, mostly farmers, optimize operations using the weather data provided by a BCC/CUNY installed weather station. Dr Donde also worked with BCC/CUNY to coordinate a 2023 UN Water Conference Official Side Event at Bronx Community College on Climate Resilience: Addressing Drought and Flood. Dr Donde helped BCC/CUNY coordinate logistics of the installation of solar powered weather stations at two universities in Hyderabad, India.  
BCC's Dr. Neal Philip, Chairperson, Department of Chemistry, Earth Sciences and Environmental Sciences, and Prof. Paramita Sen, a Lecturer in the same department, have been leading student trips to India tackling climate change in some of the world's most polluted cities for the past five years and prepared the Fulbright application in conjunction with the BCC Office of Academic Affairs. Through the students' installation of advanced weather station technology, they are helping cities in India understand more about climate change and providing local stakeholders with valuable weather and air quality data. The newly installed systems can capture regular weather information, temperature, humidity, solar radiation, UV radiation, moisture, air quality, and more. Information gathered from the monitoring stations can further be viewed live through an app called Davis WeatherLink and on IBM's internet-based Weather Underground Network.  
"We are thrilled to welcome Dr. Donde to our community this fall," Dr. Phillip said. "Her visit is closely aligned with our mission to tackle climate change and other pressing global environmental issues and to enable our students to work alongside some of the brightest minds in the world."   
WATCH this CBS News segment featuring BCC's efforts to fight climate change across Western India. Dr. Donde has been engaging with BCC/CUNY on weather data awareness since 2021.
More About Dr. Donde   Dr Donde has been instrumental in the creation of BRC and in providing education to undergraduate and PhD students on Vedic culture to revive India's traditional wisdom to protect the environment and humanity. Dr Donde is also a member of the India National Assessment and Accreditation Council, which is a Central apex body for evaluation and ranking of higher education institutions. Prior to her position at BRC, Dr Donde was head of several institutions affiliated to UoM for almost two decades.
Dr Donde has engaged extensively in the community extension activities for water and food security by means of river rejuvenation initiatives for water, soil and forest conservation along with tribal and rural development. Dr Donde is a member of the World Water Council and an Advisory Member of the World Commission on Drought and Flood, as well as other national and international professional bodies.  
More About the Fulbright Program   The Fulbright Scholar-in-Residence program brings visiting scholars from abroad to U.S. colleges and universities, helping the institutions internationalize their curricula, campuses, and surrounding communities, and diversify the educational experiences of their students, faculty, staff, and stakeholders. Dr Donde is one of more than 45 Fulbright Scholars-in-Residence, and among 1,000 outstanding foreign faculty and professionals who will teach and pursue research in the United States for the 2023-2024 academic year through the worldwide Fulbright program.  
The Fulbright Program is the U.S. government's flagship international academic exchange program and is supported by the people of the United States and partner countries around the world. It is funded through an annual appropriation from the U.S. Congress to the U.S. Department of State's Bureau of Educational and Cultural Affairs (ECA). Participating governments and home and host institutions, corporations, and foundations around the world also provide direct and indirect support to the Program, which operates in over 160 countries worldwide.  
Since its inception in 1946, more than 400,000 individuals from all backgrounds — students, scholars, teachers, artists, and professionals — have participated in the Fulbright Program and returned home with an expanded worldview, a deep appreciation for their host country and its people, and a new network of colleagues and friends. Fulbright alumni have become heads of state, judges, ambassadors, cabinet ministers, CEOs, and university presidents, as well as leading journalists, artists, scientists, and teachers.  They include 62 Nobel Laureates, 89 Pulitzer Prize winners, 78 MacArthur Fellows, and thousands of leaders across the private, public, and non-profit sectors.