CELEBRATING EQUAL ACCESS AND EQUAL OPPORTUNITY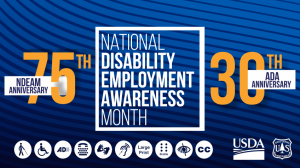 This year marks not only the 75th observance of National Disability Employment Awareness Month (NDEAM), but also the 30th anniversary of the Americans with Disabilities Act. Both milestones are being commemorated with a range of events and activities centered on the theme "Increasing Access and Opportunity."
BCC will be observing the occasion with its first ever virtual NDEAM Mini Networking Fair, which will be held on Tuesday, October 13, from noon to 2:00 p.m. Join CUNY LEADS and BCC's Offices of Disability Services and Career Development and network with some of the nation's leaders in disability-inclusive employment.
The event will include a ceremony honoring the College's first recipients of the LEADS Leader Award for their outstanding leadership as student advocates for inclusion throughout the quarantine.
The fair is open to all CUNY students. Come and connect with organizations and agencies at the forefront of this important civil rights issue. Register at:
https://us02web.zoom.us/meeting/register/tJcuc–tqjojEtYaS1KPbdAktjtOHCQHVRFW
 Register at: https://tinyurl.com/NDEAMFAIRBCC. This event is co-sponsored by Disability Services, CUNY LEADS, and Office of Career Development.