Chris Efthimiou: "I have become a go-to person for information on BCC."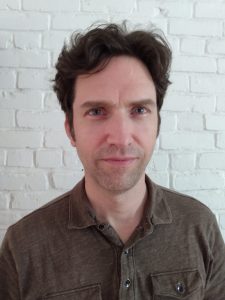 Artists create portraits in paint or charcoal. Chris Efthimiou, Director of Institutional Research at Bronx Community College, creates portraits in numbers. His subject is the always changing and diverse student body of BCC.
"I field questions from the College community based on data: student data, enrollment data, graduation data, financial aid data. They come from high level administrators, managers, faculty or staff. I produce statistical information using, information sources such as BCC's own data warehouse here on campus and the Institutional Research Database (IRDB) from the CUNY Central Office in Manhattan. Over the years I have become a go-to person for information on BCC."
"For example, this semester we helped the Health, Physical Education and Recreation department on a special research project on student perceptions of the COVID-19 vaccines. I also worked closely with the Department of English. They're examining the new placement method now that placement tests have largely stopped at CUNY. They needed data on what types of students were showing up in their courses."
Efthimiou's work frequently pops up in President Thomas A. Isekenegbe's Commencement speeches when he describes the make-up of the graduation class by gender and ethnicity, the oldest and the youngest, how many are ASAP students or employees of BCC, and so forth. That information comes directly from Chris.
"We do our own surveys, now mostly online — like the student evaluation of the faculty survey. We also do custom-made surveys for others on campus".
Of Greek heritage, Efthimiou was born and raised in Astoria, Queens, where he still lives.
"I went to public schools and then CUNY Colleges. I started at Queens College and then went over to Hunter. At Hunter I went to Paris on the CUNY-Paris exchange program, where I learned to speak French. I'm still fluent."
It was at Hunter that he earned a B.A. in political science, an M.A. in Applied Social Research, as well as a master's degree in Urban Affairs. In 2001, while still studying for his second master's, he was hired by Bronx Community College and has been here ever since.
Statistically driven social research has a long tradition in CUNY and BCC. "When I first walked into my office at BCC, I saw material there from the 1960s, with the old computer cards that people once used in my job."
Since then, Efthimiou has become part of the institutional memory of Bronx Community College. "You become a resource in this position. I have access to all the information over the many years I've been doing this. Sometimes I get answers from projects I worked on ten years ago.
"I like doing what I do. I like answering questions in different ways with different methods. It's all about helping people."