The Jack Kent Cooke Foundation Undergraduate Transfer (JKCF) 2022 Scholarship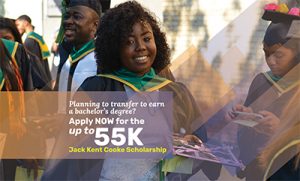 The Jack Kent Cooke Foundation Undergraduate Transfer (JKCF) 2022 Scholarship application opened on October 1, 2021! The Jack Kent Cooke Foundation Undergraduate Transfer Scholarship makes it possible for the nation's top community college students to complete their bachelor's degrees by transferring to a selective four-year college or university. The Foundation provides up to $55,000 per year, making it one of the largest private scholarships for two-year and community college transfer students in the country. The deadline for this scholarship is January 10, 2022. View the
Scholarship poster
Jack Kent Cooke Undergraduate Transfer Scholarship recipients are selected from a nationwide applicant pool each year.
As minimum criteria, students must:
Be a current student at an accredited U.S. community college or two-year institution with sophomore standing by January 1, 2022, or a recent graduate (since spring 2017).
Intend to enroll full time in an accredited four-year college or university in fall 2022.
Earn a cumulative unweighted GPA of 3.5 in college.
Demonstrate unmet financial need. We will consider applicants with family income up to $95,000.
No previous enrollment or attendance at a four-year institution. Students who have attended a four-year institution in the past are not eligible for this scholarship.
For more information about this scholarship and assistance with the application, please email the BCC's JKCF Campus Representative, Dr. Yvonne Erazo-Davila, at
Yvonne.Erazo@bcc.cuny.edu
.