Mobile Vax Van will be on campus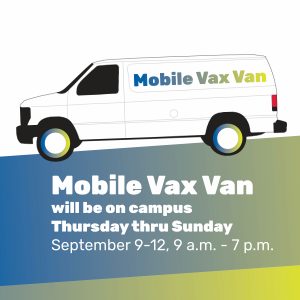 The FDA fully approved the Pfizer COVID-19 vaccine on August 23, 2021, triggering a 45-day deadline for students to be fully vaccinated. Students now have until September 27, 2021 to upload proof of vaccination in CUNYfirst.
To assist in the effort to provide vaccinations,  a Mobile Vax Van will be on campus Thursday, September 9 through Sunday, September 12 from 9:00 AM – 7:00 PM  at the visitor's parking lot accessed via our Hall of Fame entry gate in front of Roscoe Brown playhouse. Vaccines are available to everyone 12 years of age and older.
The van will provide:
1st doses of Pfizer to anyone who is entirely unvaccinated,
2nd doses to anyone who received a 1st dose of Pfizer
and 3rd doses to immunocompromised individuals who received 2 doses of Pfizer
Patients receiving a first dose will be connected to a permanent site near them for their second shot, and are also eligible for the $100 incentive for getting their first shot.
The Moderna vaccine will NOT be available.