Mohammed Fuad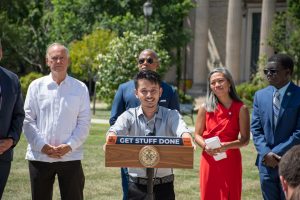 BCC graduate Mohammed Fuad and his family came to this country from Bangladesh in 2012 seeking better opportunities.
When he moved to The Bronx he learned about BCC's low tuition and variety of programs and decided to enroll. He graduated in June of 2022 with an associate degree in Computer Information Systems.
He entered a BCC pilot program in February 2022 that provided paid apprenticeships at Ernst & Young. The pilot program was a partnership between CUNY and the NYC Jobs CEO Council. BCC's Computer Information Systems AAS program was selected to be Ernst & Young's first partner school.
Mohammed participated in an apprenticeship with Ernst & Young between February and April 2022. Upon completing the 12-week program, he was offered a full-time job, beginning this July, as an Application Systems Engineer responsible for developing APPs. He plans to go on to a four-year college as Ernst & Young supports this effort.
Because of his achievements Mohammed was invited to speak at Mayor Adams' August 15 press conference on workforce development held on the BCC campus.
Mohammed told the mayor, distinguished guests and BCC faculty and staff: "BCC has always been supportive and welcoming to me. Because of BCC, I was able to get a paid apprenticeship at Ernst & Young while earning college credits. I am now a full-time employee there and I couldn't be more thankful."
He thanked the mayor and acknowledged that the two most important people in his life, his parents, were in the audience.
His advice to BCC students is to attend campus events, stay connected with counselors and professors, focus on learning, and take advantage of all the programs available at BCC. Mohammed personifies the BCC student that this new initiative is designed to help.
BCC is very proud of Mohammed and looks forward to seeing where his journey takes him in the future.