Mother and Son Graduate This Year at Bronx Community College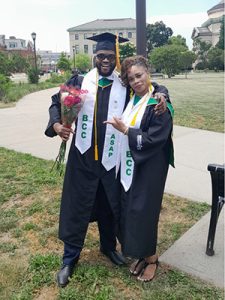 In 2017, Carolette McKenzie came to The Bronx from Jamaica. She worked in the banking sector in Jamaica for over 20 years. Coming to the States, she had to start over and began working as a full-time home health aide and at Macy's.
It was while caring for her patient that she had an epiphany and decided that nursing may just be the right fit for her.
On her way to work, she saw signs on buses for the CUNY Accelerated Study in Associate Program (ASAP) offering scholarships, Metro cards and textbooks for students. So, she decided to enroll in the ASAP Program at Bronx Community College (BCC).
"I chose BCC because it was convenient, affordable and has a beautiful campus. ASAP also offered me the opportunity to graduate on time and debt-free. The professors were amazing and always there for me. It was a great experience," Carolette said.
Her son Deondre came to the US in 2020 from high school in Jamaica after successfully completing his secondary school exams for entry into Jamaican universities.
Convinced by his mom, he chose to attend BCC and enroll in ASAP. "BCC provided me with an opportunity to pursue a degree in Criminal Justice," Deondre said.
Dr. Neal Phillip said: "I had Carolette as a student in my General Chemistry class. She was the top-performing student in the class for that semester and one of the top three I have had in my 20 years of teaching General Chemistry at BCC. She was highly motivated but still always found the time to help her classmates with Chemistry or life questions they had. She was truly committed to her goal of becoming a nurse and I am thrilled that she achieved this goal. Also thrilled that she passed on her love of learning to her son who also graduated with her from BCC in June."
Dr. Christina Sassi-Lehner noted: "In the spring of 2021, Deondre was a student in my English 110 course. He was one of my best students–not only that semester but in the twenty-plus years that I have been teaching at BCC. During the darkest days of the pandemic, Deondre was a ray of sunshine. He showed up for every Zoom session with a big grin, happy to be a part of the class, well-prepared and eager to talk about the literature we were reading. I'll never forget him, and I'm excited to see where his dedication and drive take him beyond BCC. "
Mother and son would often commute together to BCC. They also shared the same academic advisor Laisa Quezada, who helps ASAP students. She guided them through their academic journey, ensuring that they would take the right classes and graduate early.
Laisa said: "Carolette and Deondre McKenzie embody the extraordinary potential within every individual. Their experience speaks volumes of their achievements and shared milestones of graduating from BCC as a mother-son duo.
As their academic ASAP advisor, I had the privilege of witnessing their remarkable journey firsthand. I am honored to have played a small role in Carolette and Deondre's academic journey, but it is their unwavering dedication and tenacity that truly propelled them forward. I remember the first day Carolette sat in my office and promised she would be my first nursing student to graduate from BCC, and she did. "
Their success is a testament to the transformative power of education, the immense potential within each individual, and the impact that the Accelerated Study in Associate Programs (ASAP) has on student retention and success."
Carolette received her Associate Degree in Nursing and Deondre received an Associate Degree in Criminal Justice. Carolette will continue her studies at Monroe College after passing the NCLEX-RN boards. Deondre graduated with honors and will pursue a BS degree in Criminal Justice at John Jay in the Fall.
Both held full-time jobs while going to school and are currently working in their field of study. Their journey was not without numerous challenges and financial hardships but they persevered.
Their advice to other BCC students is never to lose sight of your goal, stay motivated, and reach out to professors and staff for help in navigating class and work schedules.