ALL THE RIGHT MOVES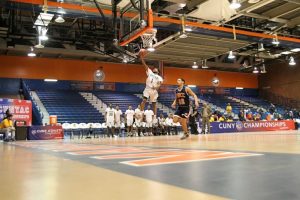 During his years at Bronx Community College, basketball phenom Tilquan Rucker not only made his mark with the Broncos, he stood out among players across the city and the nation. This past season, the guard was named The City University of New York Athletic Conference Player of the Year, a National Junior College Athletic Association Second Team All-American (only the third Broncos player ever to be tabbed an All-American), and a Region XV First Team All-Star.
Now he is moving on, having received a full scholarship to play for NCAA Division II Benedict College in South Carolina, where he expects to major in sports management.
"I chose this college because it was the most consistent college among all of the institutions that were recruiting me," Rucker says. "Also, it's a historically black college. As for the team itself, it has great leadership qualities, and the players support one another. By joining the Tigers, I'm expecting to win championships while helping the team gain maximum exposure.
"I feel it's going to be a different experience. I've been playing in New York City all my life. I've given all I have in high school and community college. I don't want to be just a top player in this city, I want to show that I can take it wherever."
Rucker will take with him many treasured memories of his experiences as a Bronco such as "the practices with the team. Learning from one another and helping one another. It teaches you leadership and how to care for others and not just yourself. That's something I learned by being in Bronx Community College.
"I had a wonderful time being at BCC. It was the best decision that I made.
BCC's Sports Information department contributed to this story.