Today's students are the STEM leaders of tomorrow.
National Science Foundation STEM (Science, Technology, Engineering and Math) scholarships are offered at both Bronx Community College and Lehman College and are designed to help students successfully complete a STEM major in college … ultimately leading to a career in one of these fields. Students not only receive a solid education, they can take advantage of a wide range of academic and financial benefits.
Why study STEM?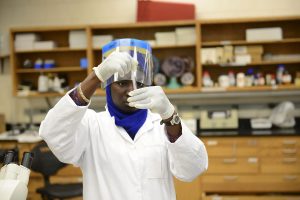 As advances in technology continue to reshape today's workforce, STEM professionals are consistently in demand. It is estimated that jobs in fields relating to STEM will increase up to 62% by the year 2020, offering average starting salaries of $85,500 — nearly double the salaries compared to non-STEM jobs, whose average salaries are estimated to start around $47,200.
Who qualifies?
Only students pursuing a STEM major (Biology, Chemistry, Computer Science, Mathematics, Physics, Environmental Science, Earth Science)
Students with a minimum GPA of 3.0
Open to Citizens, Green Card Holders and Refugees
A strong commitment to NSF S-STEM Program
What are the benefits?
Students who have less than 30 credits are paid a stipend of $2,000 per semester, and students who have more than 30 credits are paid a stipend of $3000 per semester. In addition, students are paid $2000 for their internship/research in the summer.
Regular meetings with an academic advisor and faculty mentor to ensure the student stays on the path to graduation
Academic tutoring, coaching, writing workshops and review sessions for STEM courses
Opportunities to work side-by-side with faculty conducting ground-breaking research
Innovative teaching and curriculum, incorporating active learning classroom methods shown to improve student success
Internships
Experiential learning working with faculty and industry leaders
Leadership role opportunities (supplemental instructors, peer mentors) as well as officer roles for the multiple STEM clubs on campuses (ACS. STEM, SPE, Math and Computer Science)
Participate in Innovation Challenge, workshops to start-up businesses
Career preparation, mock interviews, resume writing
­­Average Salaries
Microbiologist $78,910
Physicist $143,890
Aerospace Engineer $111,000
Agricultural Engineer $77,330
Biomedical Engineer $101,500
Chemical Engineer $98,380
Civil Engineer $97,390
Computer Engineer $111,490
Computer and Information Systems Managers $181,900
Electrical Engineer $102,140
Environmental Engineer $95,190
Geological Engineer $89,770
Health & Safety Engineer $94,170
Marine Engineer $95,160
Mechanical Engineer $94,370
Automotive Engineer $94,370
Computer Scientist $139,670
Pharmacist $117,350
Chemist $86,140
Horticulturist $53,960
Mathematician $101,610
Actuarial Scientist $138,180
Material Scientist $98,010
Material Engineer $98,010
Statistician $105,560
Computer Programmer $91,470
Architect $92,140
Start the program from Bronx Community College
If students begin at BCC, they can transfer seamlessly to Lehman College by taking advantage of Guaranteed Admission.
To access the application, you will need to enter your full CUNYfirst login credentials. That is, CUNYfirstUsername@login.cuny.edu and the password.