Keynote Speaker – Morning
Dr. Daisy Cocco De Filippis

Dr. Cocco De Filippis returned to Hostos Community College in August 2020 after serving as President of Naugatuck Valley Community College from July 2008 to August 2012. The hallmark of her presidency was a shared vision of community, student-centeredness, collaboration, and civic engagement. Under her guidance student retention rose steadily as did the number of associate degrees and certificates awarded. She oversaw the expansion of the Waterbury campus, the renovation of Founders Hall and the campus improvement project, and the establishment of an Advanced Manufacturing Technology Center. To meet the needs of a growing immigrant population, NVCC created a campus in downtown Danbury, accredited by the New England Commission for Higher Education, to offer degree and certificate programs. During her tenure the college hosted four Fulbright Scholars-in-Residence in support of the creation of an International Center for the Arts at NVCC.
Keynote Speaker – Afternoon
Dr. Grisel Y. Acosta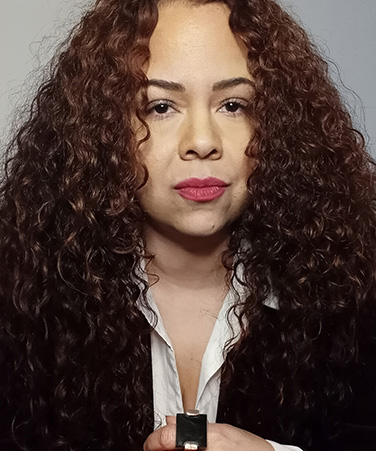 Dr. Grisel Y. Acosta is an Afro-Latinx, queer, full professor at the City University of New York-Bronx Community College. Her poetry collection, Things to Pack on the Way to Everywhere, was a 2020 finalist for the Andrés Montoya Poetry Prize, and was published by Get Fresh Books in 2021. She is the editor of Latina Outsiders Remaking Latina Identity (Routledge, 2019), an anthology featuring over 30 scholarly and creative works by Latinas from throughout the United States. Select creative work is in The Baffler; Platform Review; Gathering of the Tribes Magazine; Best American Poetry; NOMBONO: Speculative Poetry by BIPOC Poets; Speculative Fiction for Dreamers: A Latinx Anthology; Split this Rock; In Full Color: A Collection of Stories by Women of Color; Pembroke Magazine; the NAACP Image Award nominated Check the Rhyme; The Reproductive Freedom Anthology; Basta!: 100 Latinas Write on Violence Against Women; Celebrating 20 Years of Black Girlhood: The Lauryn Hill Reader; Paterson Literary Review; Acentos Review; and American Studies Journal.