Program Description
The Automotive Technology curriculum, the only one of its kind in the City University of New York, prepares the student for a career as an automotive technician. This curriculum develops understanding of operational principles, service sequences and diagnostic techniques for the automobile. Upon completion of this curriculum, the graduate is prepared for entry-level positions in various areas of the automotive industry dealing with development, testing, diagnosis and service of mechanical, hydraulic, electrical and thermodynamic automotive systems.
Automotive Technology graduates are employed in a variety of automotive-oriented positions including test technician, diagnostician, equipment sales and service, independent business administrator, dealership service manager, service writer, engine machinist, fuel injection, automatic transmission and engine management specialist, as well as general service technician. Further training and education can lead to careers in technical education, engineering, insurance appraisal, accident investigation and other specialties. The program articulates with SUNY Empire State College. See the Transfer Planning web site for more information.
AUTO TECH PROGRAM LAUNCHES MAJOR PARTNERSHIP WITH NISSAN/INFINITI
Automotive Technology program, the only program of its kind in The City University of New York, is joining forces with two dozen local auto dealerships to bring the Nissan/Infiniti Technician Training Academy Program to BCC's University Heights campus. The program includes the contribution of four late model cars on which students will master the skills of today's computer-savvy automotive technician, training for Auto Tech faculty in the latest developments in the field and salaried internships (also good for college credit) at service centers across the city that can lead to well-paid careers with Nissan/Infiniti.
Learn more about the program and the program benefits.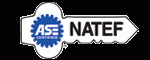 The Automotive Technology associate degree program is accredited by the ASE Education Foundation (http://www.aseeducation.org/).
Learning Outcomes
Upon successful completion of the Automotive Technology program requirements, students will be able to:
Demonstrate proper safety procedures, accident prevention and shop procedures in an active garage.
Demonstrate understanding of fundamental internal combustion engines and be able to perform basic mechanical diagnosis and repair.
Calculate hydraulic pressures within a drum and disc brake system.
Demonstrate proficiency in the use of computer diagnostic equipment, such as proper use of a scan tool and oscilloscope.
Calculate gear ratios and demonstrate understanding of torque multiplication in transmissions.
Explain how alignment angles can affect a vehicle's handling performance and tire wear.
Demonstrate a working knowledge of manifold gauge set readings and how they relate to air conditioning performance.
Use wiring schematics and electrical test equipment to diagnose electrical problems.
Diagnose automatic transmission issues including torque converter operation.
Curriculum Coordinator: Mr. Clement Drummond
Visit Us
Your career in the automotive and transportation industry starts at Bronx Community College.
Call today to schedule a visit of the Automotive Technology on-campus garage. Personalized tours are available on weekends and during the week.
We can be reached at 718-289-5367 or robert.troise@bcc.cuny.edu