CompTIA A+ Certification Prep (Exam 220-1101 & 220-1102).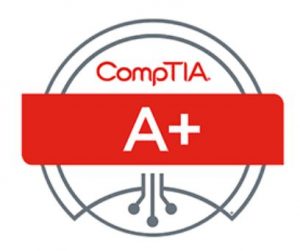 Registration fee is $20.00.
This Course is for everyone.
CompTIA A+ Exam Fee will be covered.
CompTIA A+ study resources' will be covered.
CompTIA A+ Exam Practice resources' will be covered.
This Course is a special grant from CUNY Upskilling Scholarship Program.
The program prepares students for the CompTIA A+ Certificate examinations.
The A+ Preparation Program helps prepare students for entry-level information technology jobs.
A+ is an entry-level course for those who wish to advance on the IT career ladder. It provides the fundamentals necessary for next level N+, S+, Cloud+ and Linux+ courses.
Topics include installation, maintenance, configuration and troubleshooting of computer hardware and operating systems; safe lab practice and tool use; computer assembly and disassembly; the boot process; installation and configuration of portable devices and peripherals (e.g., printers and scanners); introduction to networking; and the types, consequences and prevention of security threats.
Registration Application:
New student admissions for the 2022/2023 academic year are open.
Start Your Application:
Use the CUNY Upskilling Scholarship application to apply now!
Download the Instruction guide (.pdf) to fill out the scholarship application.
CUNY Upskilling Scholarship Benefits:
CUNY Upskilling Scholarship is to support students in taking this course, obtaining CompTIA A+ Exam Vouchers, Study Materials and Study Exam Practice Resources. And the only fee students will have to pay is a $20 registration fee.
In case you need any assistance, don't hesitate to contact us
Madelaine Centeno
Telephone: 718.289.5100 Ext. 3139 | Fax: 718.289.6018
Email: madelaine.centeno@bcc.cuny.edu or EHAB.ISMAIL@bcc.cuny.edu
Bronx Community College
Workforce Development & Continuing Education
Sage Hall, Room 202
2155 University Avenue, Bronx, New York 10453