A Message from Dr. Milton Santiago
Interim President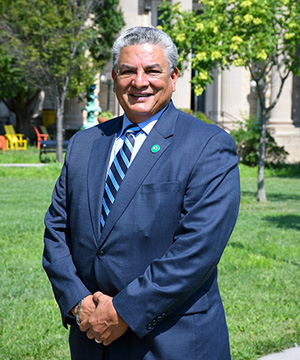 Dear BCC Community,
Welcome to the 2023-2024 academic year! I am honored and proud to serve as Interim President at Bronx Community College (BCC).
Having begun my executive career at a community college, I have experienced firsthand the profound impact an education can have.  This is particularly true for our students and the Bronx community at large. Our goal is to provide innovative curricula and resources that enable all BCC students to succeed and advance their lives socially and economically.
Addressing the individual needs of our students is a top priority. We know that navigating college life is not easy, and we are here to help in any way we can.
BCC provides many important services, including childcare, tutoring, counseling, and a food pantry. BCC also can connect our students with outside services as necessary. Please seek out the help of our resources should you need it, and most importantly, do not be afraid to ask questions.
Staying ahead of job market trends, BCC offers programs and classes with a purpose. Students apply what they have learned in classrooms and labs to real-world experiences that meet workforce needs locally and beyond.
Our BCC campus often becomes a second home to our students. Students who get involved with clubs and activities on campus after class typically have the most positive college experiences.
During my time in this role, I am committed to making a positive impact on our retention rate and generating fiscal stability. I also am committed to ensuring that we continue to build our sense of community, knowing that we all have the best interests of our students in mind.
Our beautiful landmark campus offers so many opportunities for our students, whether going on to obtain a four-year degree or a job within their field. I look forward to seeing everyone upon their return from summer break and wish the entire BCC community a productive year.
Thank you for supporting BCC.
Respectfully,
Milton Santiago, Ed.D.
Interim President
Bronx Community College