Blackboard
To access your course(s) on Blackboard, you need to login using your CUNYfirst username followed by @login.cuny.edu and your CUNYfirst password. If you never logged in to CUNYFirst, you can Claim your Account.
If you forgot your CUNYFirst username or password, you can Reset your Password.
Starting July 4th 2017, all existing Blackboard access links will point to the new CUNY Applications Login page.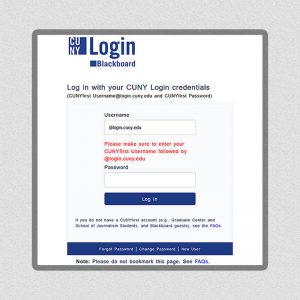 Please DO NOT bookmark the login page.
If you are having trouble logging into Blackboard, please contact the Technology Service Center
Students
Phone: 718.289.5970
Email: tsc@bcc.cuny.edu
Faculty/Staff
Phone: 718.289.5969
Email: tsc@bcc.cuny.edu
---
E-Portfolio Program
Electronic portfolios, or e-portfolios, are a fast-growing dimension of online learning that many colleges are now making available to students and faculty. E-portfolios provide an online space for students to showcase academic work and interests, reflect on the meanings of that work and the connections between those meanings, and present themselves to prospective employers or transfer institutions. An e-portfolio is a space to explore goals and aspirations, and to display accomplishments, to the broadest possible audience, or to targeted, specific audiences. E-portfolios offer many possibilities to users: academic, personal, and professional.
BCC inaugurated an e-portfolio program in the Spring 2009 semester. About 260 students, enrolled in selected classes in the Honors Program, the Education Department, the Digital Arts program, and the Paralegal Studies program, began building portfolios. Instructors in the e-portfolio program participate in an ongoing faculty development seminar, in which they explore ways to integrate e-portfolio activities into their courses. The program will expand to approximately 500 students in the next academic year.