The Sakura Cafe!
Thursday, May 11th from 11:30 am to 2:30 pm in Roscoe Brown Student Center, Room 211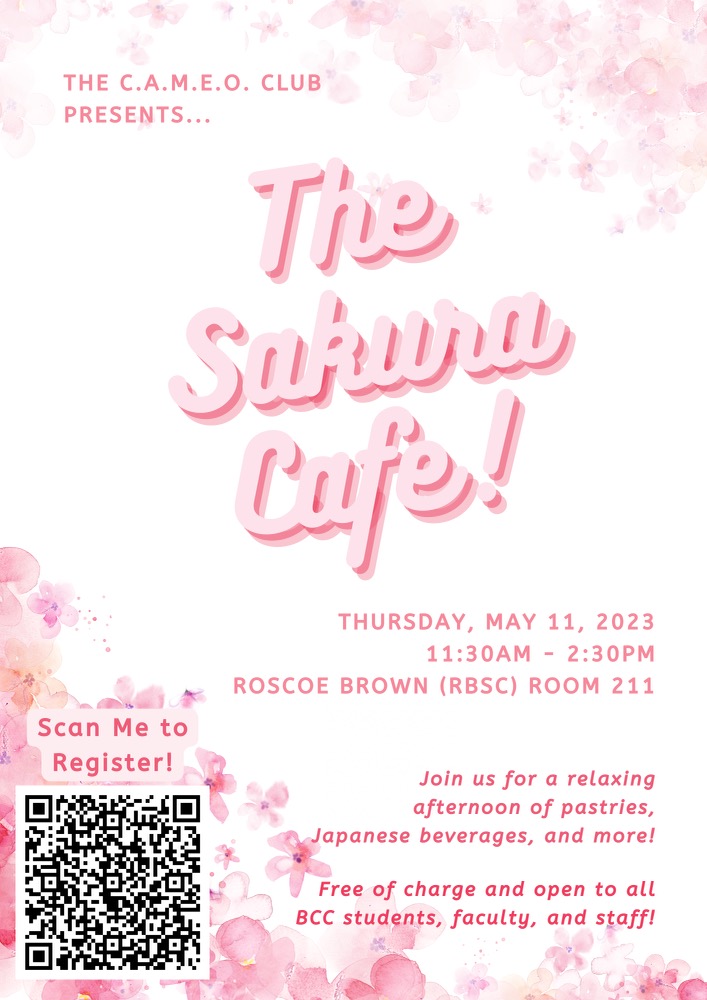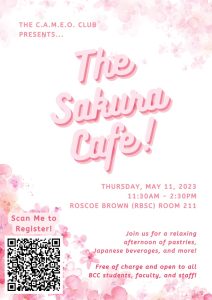 Join the C.A.M.E.O. Club for a fun and relaxing afternoon of pastries and Japanese beverages! Open to all BCC students, faculty, and staff and is free of charge!
Hope to see you there~
╰(*´︶`*)╯☆
Concerts
Coming soon!
Fall 2023
Fall 2020 Concerts
BCC Rotunda Concert Series will be available for streaming online. Performers for Fall 2020 will be MIVOS Quartet, Sweet Plantain String Quartet and the Lahti Ensemble.
MIVOS Quartet is made up of two violins, viola and cello and are "one of America's most daring and ferocious new-music ensembles" (The Chicago Reader). MIVOS Quartet is devoted to performing works of contemporary composers and presenting new music to diverse audiences. This season they will be performing with vocalist Cecile McLorin Salvant at Jazz at Lincoln Center.
Comprised of two violins, viola and cello, Sweet Plantain Quartet artfully fuses western classical music traditions in which they were trained with the hip-hop, jazz improv, and Latin rhythms. Through original compositions and arrangements, and with their use of extended percussive techniques, Sweet Plantain Quartet awakens audiences to new possibilities in chamber music.
Lahti Ensemble consists of a soprano, clarinet, cello and piano. Created and led by composer, Jim Lahti, the ensemble will be performing the works of Beethoven, Brahms, Debussy and Lahti.
Spring 2020 Concerts
Andrea Lodge, Pianist
Monday, March 9, 12 pm, GML Auditorium
ThingNY
Saturday, March 14, 12 pm, GML Rotunda
The Art & Music department helps coordinate student clubs and other activities open to the general student body.
Art Club
The Art Club welcomes all students who are interested in the visual arts. It organizes studio sessions to help broaden artistic skills and techniques in drawing, painting, printmaking and ceramics.
Club Faculty Advisor: Prof. Doug Blanchard
C.A.M.E.O. (Cosplay, Anime, Magic, Entertainment, Origins) Club
The CAMEO Club is a creative group of students who share their appreciation for the Japanese arts of anime and manga. The club also hosts a variety of events that celebrate Japanese culture and comics.
Club Faculty Advisor: Prof. Mary Jo Ben-Nun
Guggenheim Hall [GU], Room 203
Phone: 718-289-5252