The Hall of Fame Art Gallery
The Hall of Fame Art Gallery is located on the historic Bronx Community College campus. We have been operating for over 40 years.
The gallery is directed by faculty and run by several student interns on a rotating basis.

We mount four to five shows a year, featuring the work of our Digital Arts students, faculty, and staff, along with local artists from the Bronx and the Tri-State area. Exhibitions range from traditional fine art to graphic design, photography, digital art and more. Group shows and solo exhibitions from established and emerging artists allow our students exposure to current trends in the art world.

The gallery is funded in part by the Art & Music Department of Bronx Community College, the BCC Art & Music Consortium and BCC, Inc.
Please come to visit our current exhibition Unsung Herouines Virtual Monuments Series by Rose DeSiano at Roscoe Brown Student Center Room 211
The Hall of Fame Art Gallery Online is pleased to present:
The Fall 2022 Digital Design and Studio Art Student Exhibition
March 17 – May 8, 2023
Roscoe Brown Student Center Room 211
UNSUNG HEROINES: VIRTUAL MONUMENTS SERIES
An Exhibition of Works by Rose DeSiano
In honor of Women's Heritage Month, the Hall of Fame Gallery at Bronx Community College is pleased to present the work of artist Rose DeSiano.
Recognizing the need for many unsung heroines to be honored, DeSiano developed an interactive web interface that invites viewers to create monuments dedicated to their own unsung heroines. Working with public submissions, she creates 3D renderings incorporating uploaded portraits. These monument renderings are then inserted into 3D photogrammetry maps, in locations of the submitter's choice, creating final photographic documentation of these virtual monuments to real heroines. Included in this exhibition of photographic prints are reflective artworks that allow the viewer to place themselves into their own monument. Reflections, selfies, and snapshots create an interactive, immersive conversation about monuments that are designed to celebrate a community, rather than simply honoring a select few.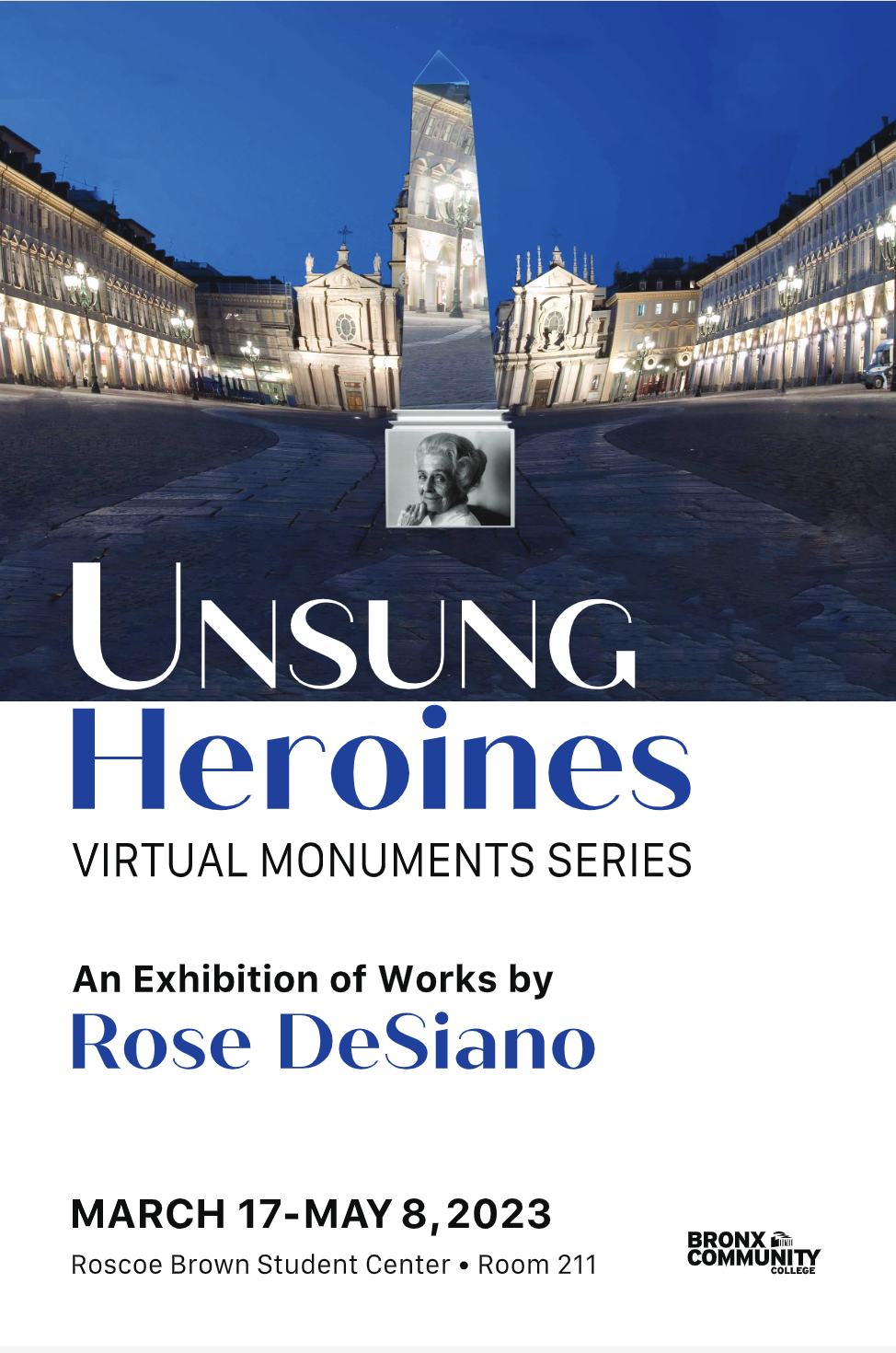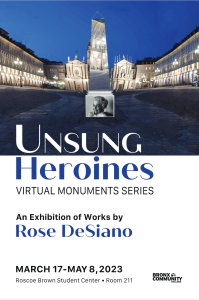 Hall of Fame Art Gallery Archive