Dr. Deborah Lewittes publishes her second book and receives a grant to fund new research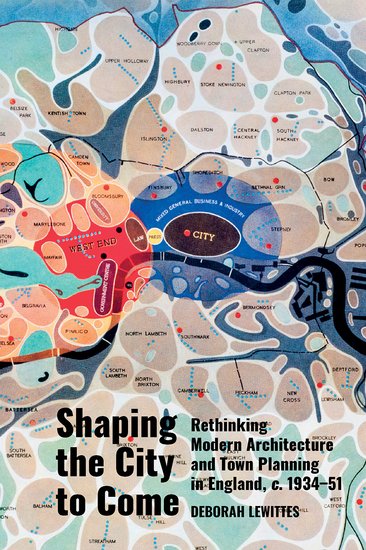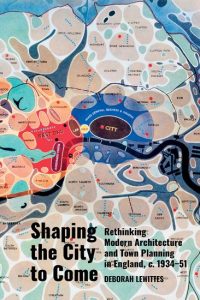 Deborah Lewittes (Associate Professor of Art History) published her new book in 2022. Shaping the City to Come: Rethinking Modern Architecture and Town Planning in England, c. 1934-51 (Liverpool University Press) reassesses mid-twentieth-century England, highlighting ideas and debates that were in circulation as continental modernist ideals gradually took root in a new environment. The book reveals an interwar architectural culture that was serious, active, and visionary, with impact that extended into the postwar years. Through close studies of specific works and writings, the book acknowledges the importance of the international context of modern architecture as it intersected with the variety of narratives that defined English modernism, such as national identity, the New Empiricism, and the picturesque, taking into account the large community of émigré architects who settled in England with the approach of World War II, as well as a more general dissemination of international style forms and theories from elsewhere in Europe. The book places familiar figures such as Berthold Lubetkin and Ernö Goldfinger as well as projects such as Tecton's Penguin Pool and the Festival of Britain's "Live Architecture" Exhibition in new light, presenting a rich picture of the modern architectural climate in England. The study draws attention to the debates, proposals, and processes that fed into the development of modernist, urban-minded, and forward-looking architectural thought. 
Dr. Lewittes also just received a 2023 PSC-CUNY research grant to support travel to London for her new project on the work of the Berlin-born English sociologist Ruth Lazarus Glass. This project will be the first attempt to link Glass's writing and thinking to architectural and urban debates in the thirties and forties. Although she is celebrated for having coined the term "gentrification" in the sixties, Glass was active in English sociology circles from the moment she fled Nazi Germany in 1933 and came to London, analyzing housing estates and architectural works in social terms. In Glass, many significant strands come together – she was female, foreign, and Jewish in a culture that was antisemitic, xenophobic, and – at least in the academic environment in which she worked – often misogynistic as well. Glass navigated these waters with an unparalleled intellect, and this new study will analyze the importance of her writing from the angle of art and architectural history. 
Dr. Andrea

Ortuño

publishes article on architect of former New York City Magdalen Asylum
Andrea Ortuño (Associate Professor of Art History) specializes in art of the early modern Hispanic world, but several years ago, while researching her family history, she became fascinated by the ornate design of a long-since demolished building that once stood at West 139th Street and Riverside Drive.  
Designed by noted American architect, William Welles Bosworth (1869–1966), and completed in 1893, the building originally functioned as a Magdalen Asylum, a reformatory for so-called "wayward" women. Notorious in England and Ireland for their inhumane treatment of women and young girls, Magdalen Asylums isolated their female inmates in a strict environment that not only included rigorous religious instruction, but also hard labor in laundry facilities. The 139th Street asylum was one of several such reformatories in New York City that held women and girls deemed delinquent or simply at risk of becoming morally corrupted. Dr. Ortuño's research revealed that this building was an early, largely unknown, yet pivotal commission for Bosworth, who would later go on to design the Cambridge campus of the Massachusetts Institute of Technology.  
When the Magdalen Asylum moved to a larger facility in Inwood, the 139th Street building later served as a home for terminally ill women and girls. Then, in 1914, it was purchased by the nearby Convent of St. Regis and used as a retreat house. After the sisters vacated their convent in 1955, Dr. Ortuño's grandmother became the caretaker of the old asylum and the other adjacent buildings. She lived on the property for two years with her husband and two children. After they moved away, the Yeshiva Haichel Hatorah operated on the premises. In the early 1960s, however, the former Magdalen Asylum and other nearby buildings were demolished to make way for the River View Towers, a high-rise apartment complex, which stands on the site today.  
Dr. Ortuño's article, "Fallen Women, Rising Career: William Welles Bosworth's Early Work for the New York Magdalen Benevolent Society," can be found in the most recent volume of the peer-reviewed journal Art Inquiries 18, nos. 2–3 (2021–2022): 128–143. Support for this project was provided by a PSC-CUNY Award, jointly funded by the Professional Staff Congress and the City University of New York. 
Dr. Anne

Vuagniaux

present

s

paper at 2023 South Central Renaissance Conference held at the University of California

,

Berkeley.

Her paper is titled "Witch or Widow: Deciphering the Medici Column in Paris."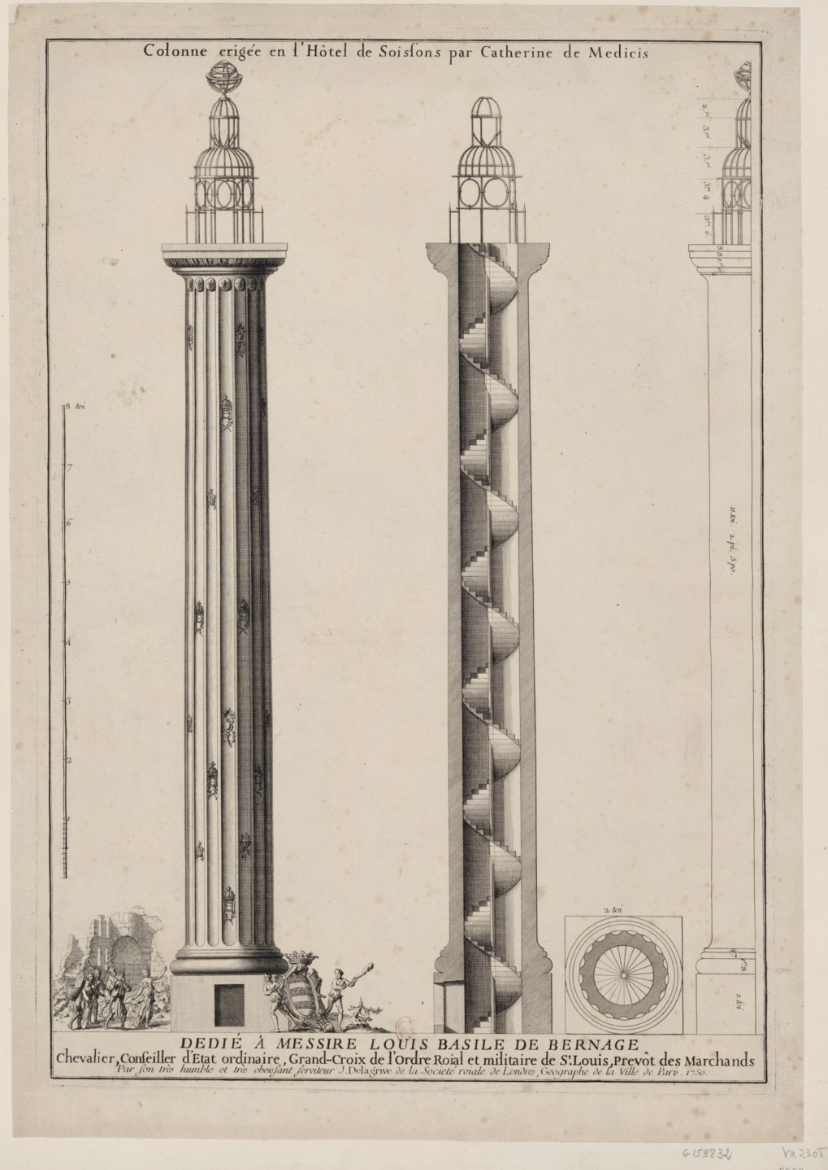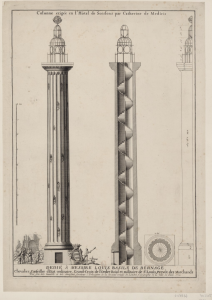 During the 1570s Catherine de' Medici, widowed after her husband King Henri II was killed in a jousting accident, was overseeing the construction of a residence for herself in Paris. For this purpose, she hired the architect Jean Bullant. In the courtyard of the new residence, Bullant erected a free-standing column thirty-one meters tall, the first monument of its kind in France.  
Since Catherine's own time, an air of mystery has hung around the column and its purpose. Numerous sources have purported a connection between the monument and Catherine's alleged engagement in various occult practices, including astrology, divination, and necromancy. According to this explanation, the queen's personal astrologers and sorcerers would have mounted the staircase inside the column and engaged in their occult operations from the platform at the summit. As tantalizing as such speculation is, and despite evidence that Catherine did indeed practice occult sciences to a degree, Dr. Vuagniaux's paper suggests a more plausible explanation for the existence of the monument. Rather than seeking the key to the column in the dark arts, she believes one should look to the monument's architect. Jean Bullant had published a treatise on the orders in 1564 and was one of the only French architects at the time to have devoted himself to the study of Roman building. It is likely that Bullant and his patron intended the column to be a classically inspired commemoration of the deceased king in the tradition of similar ancient monuments and not a prominent and highly visible site for the practice of witchcraft and magic.  
Dr. Vuagniaux proposes an interpretation for the Medici column that is grounded in evidence of the architect's unique knowledge of Roman architecture and in line with other visible expressions of mourning that Catherine made. According to this new reading, the column stands as a monumental statement of a widow's grief and reveals the emergence of a new architectural vocabulary in early modern France. 
Prof. Florence Tanaka-Kuwashima creates ceramic sculptures inspired by earlier series of exhibited works
Throughout 2018, Florence Tanaka-Kuwashima created pieces for a series of works inspired by Tokonoma, the Japanese tradition of providing houses with an art alcove. In this shallow, stage-like space, built of unrefined natural materials and never occupied by people, a work of exquisite pottery (often a flower vase) is set in front of a painted or embroidered scroll hung from a back wall. Tanaka-Kuwashima exhibited her Tokonoma constructions as well as watercolors and other ceramic pieces at a one-woman show at the Hendrick Hudson Library in Montrose, New York. 
While working on thrown and open form vases for her Tokonoma series, the pieces she created led to an unanticipated development. As she experimented with clustered plant motifs and other natural forms, the vases morphed into sculptural work. Tanaka has named these new pieces Mebuki –– the Japanese word for "sprouting," and hopes to exhibit her Mebuki sculptures when she completes the full series. 
Prof. Roni Ben-Nun wins Bronze Award in Juried Exhibition
This month, Roni Ben-Nun (Associate Professor and Chair of the Art and Music Department) received the Bronze Award at the Artist Invitational IV, International Juried Visual Arts Exhibition at the Camelback Gallery (Scottsdale, AZ) for his photograph, Magnolias. In this work, which celebrates the end of a long winter and the coming of spring, Prof. Ben-Nun captured the afternoon sun playing on magnolia petals as the day wanes.  
Rosmary Torres
Class of 2022
What opportunities at BCC helped you succeed professionally? 
All the resources available through the art department and throughout college helped me get an internship at the BCC design studio, which helped me gain experience as a graphic designer right out of graduation. 
How did BCC influence your personal and professional growth? 
Professionally, BCC allowed me to grow by developing my creativity. It helped me find my professional path and build more goals and objectives I am actively working towards. As for personal growth, I found a free and safe space to be myself and discover myself as an artist, mainly thanks to the wonderful people I proudly call mentors, friends, and colleagues. 
Can you share a transformative experience at BCC? 
My start at BCC coincided with the global Covid19 pandemic, which made my college experience lonely and monotonous because of virtual classes; however, in my last semester, one of my classes was face-to-face (ART 89), where each meeting did not feel like a class but rather like being with a creative design team where we helped each other achieve a joint goal while we inspired each other. The result of this class was a picture book that I am very proud of, and it is a crucial piece in my portfolio as a designer. 
What advice would you give someone considering attending BCC? 
I would tell them to do it. They will have many resources to guide them and help them achieve their career goals and beyond while being in a safe place to develop themselves. 
How has BCC impacted your life beyond education? 
BCC helped convince me to continue my career in design. My professors and advisors helped me find a good job and educational opportunities after graduation. Thanks to all this support, which I still have, I have confidence in myself and my work. 
Can you share a success story achieved with the help of BCC? 
My most personal and successful story involving BCC would be helping me learn the English language. Six years ago, my family gave me the opportunity to live in the United States from my home country of Venezuela, which was in a critical social, economic, and political situation. It all happened so quickly; it was overwhelming and confusing because I didn't speak English. I knew it would be difficult, considering it had never been a subject I liked at school, but I was convinced and determined to take advantage of the situation. I enrolled in English classes offered at BCC. My teachers knew my story and helped me get into the intensive CLIP program to improve my language skills and get into college. Today, I can proudly show and say to the sixteen-year-old Rosmary that we have a degree in digital arts and can understand/speak English. 
What skills/knowledge acquired at BCC do you use in your profession? 
Much of the knowledge I acquired is present in my work. I use my training and skills in Adobe programs daily. This pushes me to understand design better and innovate my work. I was told in my first class, "Designers are always learning. We must keep up with the changes." To this day, what this teacher said to me in my first class is confirmed. And honestly, there is beauty in constantly learning about your profession. 
Penelope Almonte
Class of 2018
What opportunities at BCC helped you succeed professionally? 
BCC showed me that it is possible to come from another country, another culture, speak another language, and succeed. Thanks to BCC and my professors, I adapted quickly to my new home and overcame any challenge while completing my BFA at FIT.

How did BCC shape your personal and professional growth? 
One of the ways that BCC shaped me personally and professionally was by molding my character. Today, I'm more resilient and not afraid to ask questions. It also made me realize that I'd become a successful professional anywhere in the world.  
Can you share a transformative experience at BCC? 
It's incredible the amount of support received from your professors and advisors. When I think about BCC, the first word that comes to mind is "community."  
What advice would you give to someone considering attending BCC? 
Give your best while you are here. Invest time in learning and perfecting your craft, whatever that may be. Owning what you do and who you are as a professional will open doors for you.  
How has BCC impacted your life beyond education? 
Thanks to BCC, I feel I can become anything. I learned to respect and enjoy the process.  
Can you share a success story achieved with the help of BCC? 
BCC helped me get where I'm today; a Product Designer that enjoys building thoughtful digital experiences.  
What skills/knowledge gained at BCC, do you use in your profession? 
BCC instilled in me the design fundamentals I use daily. I learned that a bad idea is never bad but rather the beginning of something great.