What is Geospatial Technology?
Geospatial Technology is an emerging field of study that consists of three major disciplines –  Geographic Information System (GIS), Remote Sensing (RS), and Global Positioning System (GPS). The goal in geospatial technology is to acquire geospatial data from multiple sources (spaceborne, airborne, field observations) and use it for analyzing, modeling, simulating and visualization. Geospatial technology is deployed by a wide range of users for environmental management, urban planning, mapping city sprawls and in designing informed decisions. Since space on earth is a contentious and limited resource geospatial technology is critical for managing human and natural resources.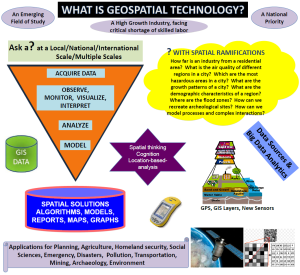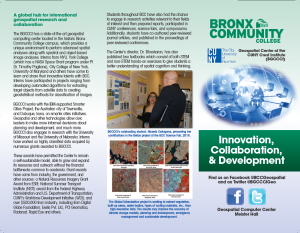 What are geospatial technology's uses and applications?
Geospatial technology may be used to create intelligent maps and models that may be interactively queried to get the desired results in a STEM application or may be used to advocate social investigations and policy-based research. It may be used to reveal spatial patterns that are embedded in large volumes of data that may not be accessed collectively or mapped otherwise. With the advent of BIG data and digital revolution time-series of geospatial datasets may be used to refine regional climate models, retrieve aerosol optical  depths and design climate mitigation models.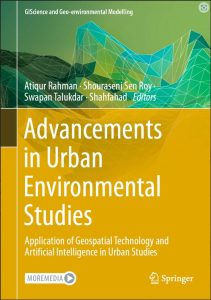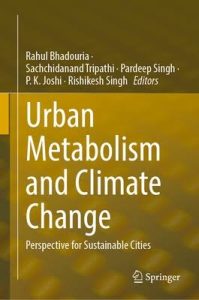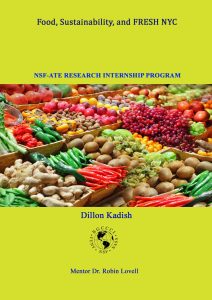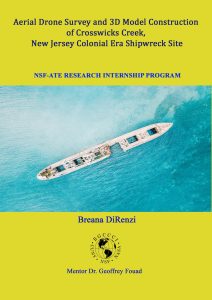 Book chapters published in Springer Nature by BGCCCI affiliated faculty
Why is geospatial technology important?
Almost all activities on the earth have a spatial component that needs to be modelled for various reasons for its better utilization or management. Geospatial technology may be used to design digital twins of cities that may be used in multi-criteria analyses, simulations or in predictive modeling and estimations. Geospatial data related to climatology may be analyzed at a multi-scalar level to estimate the crop harvests in  a region. Since all resources may be represented by data geospatial techniques may be employed to derive intelligent solutions for their management and optimization.
More Information and Further Reading
Geospatial Analytics is a BOOMING Industry
Click to read the full article The Rise of Spatial Thinking.

Geospatial Projects at BCC-CUNY
Click on Geospatial Projects to get an idea about the potential of geospatial technology.
Research on Global Urbanization Patterns of Major Cities
Research on  Global Urbanization Patterns of major Cities was conducted at BGCCCI. The following media prepared by CUNY showcases highlights of the project.
Geospatial Revolution, Parts 1 – 4
The following videos created at Penn State University describe Geospatial Technology and its applications:
Geospatial Revolution – Part 1
Geospatial Revolution – Part 2
Geospatial Revolution – Part 3
Geospatial Revolution – Part 4
Copyright: Produced by Penn State Public Broadcasting