CD Peer Leaders
CD Peer Leaders are senior College Discovery students who are trained to assist other students in their first year of college.
CD Peer Leaders can help with questions related, but not limited to:
Financial Aid
CUNYFirst and Registering for classes
CD Program Benefits
Preparation for midterms and finals
Joining extra-curricular clubs on campus
Schedule an appointment with your CD Peer Leader
Meet our Peer Leaders: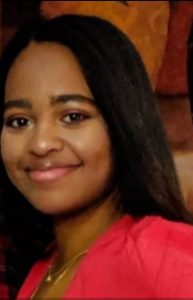 Alania Gomez – Business Administration: Marketing Management
ALANIA.GOMEZ@STU.BCC.CUNY.EDU

FLO Workshops are a CD service to develop student skills outside of the classroom. The workshops are designed as a progressive sequence so that each semester, the student will complete a new workshop based on their experience and needs. Below is a list of categories and sample workshops by semester.
| | | |
| --- | --- | --- |
| SEMESTER | GOALS | SAMPLE TOPICS |
| 1st Semester | Identity Growth & Development | Learning styles, personal values, self-advocacy |
| 2nd Semester | Interpersonal Skills & Communication | Emotional intelligence, interdependence, professional communication |
| 3rd Semester | Civic Engagement & Community Involvement | Leadership style, community project, social justice initiatives |
| 4th Semester | Career & Transfer | Resume building, interview skills, transfer schools |
XAE Club

The XAE Club is designed for honors students  who aim to achieve honors. Members gain skills in leadership and civic engagement while building a strong resume and lifelong friendships.
The faculty Advisor is Mr. Nathan Aiken, Email: nathan.aiken@bcc.cuny.edu.
Club meetings take place every other Thursday at 12:00 pm.
CD Club